Born on 1 October 1936 in Dudley, Duncan attended the Priory Primary school and Wolverhampton Street Secondary school, honing his footballing talent on their playgrounds and playing fields, often with much older lads before progressing to the more organised level of schoolboy football.
From local circles to the international stage was a simple step up for the talented youngster and soon a clutch of clubs were after his signature. Duncan, however, had his heart set on only one – Manchester United. At Old Trafford, under the guidance of Manager Matt Busby, Duncan became part of the immortal 'Busby Babes' side of the 1950's.
His enthusiasm for the game, coupled with his unique talent allowed him to play in many positions with the same effectiveness. If ever a player was destined for greatness it was Duncan Edwards.
Although he died at Munich in February 1958 at the age of twenty-one, he is remembered fondly by those who saw him play and by those who have heard the stories of his all too brief career. Jimmy Murphy the Assistant Manager of Manchester United said of Duncan Edwards "If I shut my eyes I can see him now. His pants hitched up, the wild leaps of boyish enthusiasm as he came running out of the tunnel, the tremendous power of his tackle – always fair but fearsome – the immense power on the ball. In fact the number of times he was robbed of the ball once he had it at his feet could be counted on one hand. He was a players' player. The greatest English footballer of all time… that was Duncan Edwards."
Duncan played 180 games for Manchester United, England and The Army while on his two years National Service and during this period he helped Manchester United to win two consecutive First Division Championships
---
---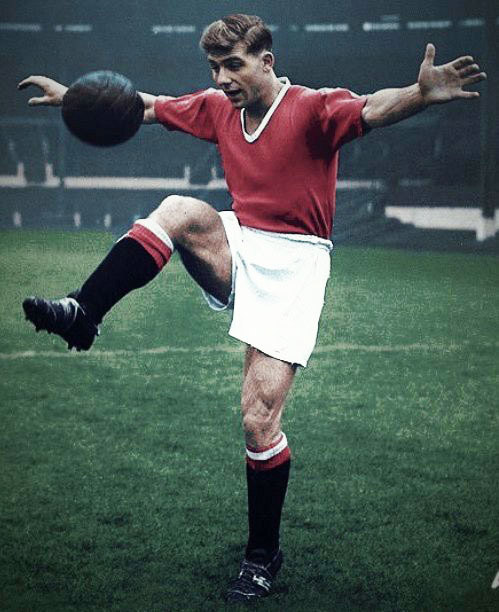 Duncan Edwards Football Statistics
---
Manchester United - 1953-1958 (appearances)
England Under 23's - 1954-1957 (goals)
Manchester United - 1953-1958 (goals)
England 'B' - 1953-1954 (appearances)
England School Boys - 1949-1951 (appearances)
England - 1955-1957 (appearances)
England Under 23's - 1954-1957 (appearances)
England - 1955-1957 (goals)